At Smarmec, we have used Cold Metal Transfer technology to weld 17,280 sheets to 1,440 pipes, an unprecedented application in the industrial world
This process was developed for the NOOR III project in Morocco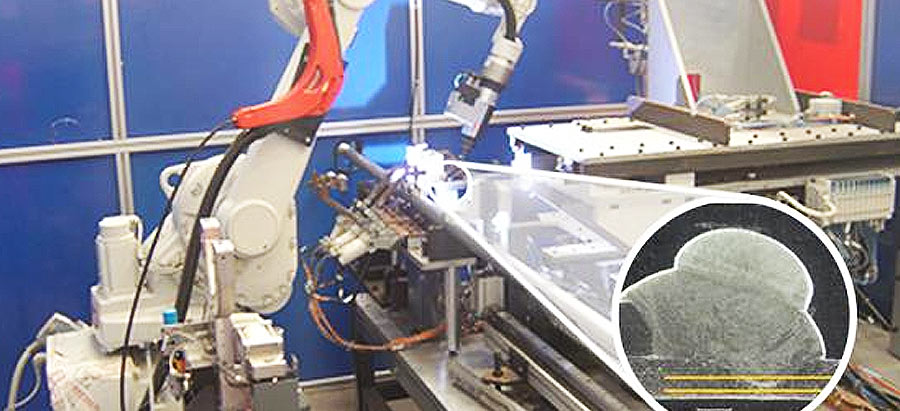 Each job requires different execution methods. At Smarmec, we adapt our processes to the requirements of each client and situation. That is why we are pioneers in applying a different approach to CMT robotic welding technology. We carry out many projects like this one, from start to finish: from the first draft to the final execution. Do you have any questions? Contact us!
CMT (Cold Metal Transfer) welding is a technology often used in the industrial sector. We applied it to the NOOR III project where both the materials to be welded (two thin heat-resistant super alloys) and the welding requirements (continuous welding around the perimeter with very demanding penetration margins) were a challenge.
This innovative process consisted in welding 17,280 sheets to 1,440 22-meter-long pipes, which are part of the central collector panels of the NOOR III concentrated solar power plant in Morocco. Salts circulate through them at 500ºC during the day, and can drop to 0ºC at night.
Since it was necessary to weld a sheet to the pipes to reinforce the structure, it was decided to use CMT welding technology. This element is responsible for supporting 250 m high panels while facing adverse climatic conditions and the thermal fatigue generated by the salts circulating inside the pipe.
The difficulty of using CMT welding lies in its limited accuracy. In this project, the pipe's thickness ranged from 0.5 mm to 0.8 mm. If the welding did not penetrate deep enough, a strong joint would not be achieved; whereas if it went too deep, it would cause leaks. This was one of those difficult projects in which, although it was necessary to work hard, there was more gain than pain. Among other things, thanks to this process we were able to achieve the repeatability that this challenge demanded and reach the assigned deadlines.
The technology used incorporates a short arc that detaches the drops of filler metal and transfers it while applying low heat transfer intensity, as compared to other conventional processes. The main innovation is the wire movement, controlled during the welding process. Each time the digital controller detects a short circuit, it cuts the power supply and the wire retracts, making it easier to place the drop.
Both innovation and reinvention are important, and we at Smarmec know that for a fact. That is why we focus on integrating the technology that best suits your requirements into smart machines for the vending and electromedical industry.