We contribute to sustainable mobility with our know-how in the handling of metal assemblies for the manufacture of vehicle chargers
Society is undergoing a revolution in the electrification of our transport. The growing need to seek sustainable and environmentally friendly solutions has led to the focus on electric vehicles as one of the most solid and promising alternatives to minimise the effects that our road journeys cause on the environment. So, today we would like to introduce you to our solid track record as an internationally recognised company in the manufacture of electric vehicle chargers, which are essential to guarantee the correct functioning of the transport network.
Our more than 35 years of experience in the manufacture of robust, quality products based on metal sub-assemblies has put our know-how at the service of the e-mobility sector; we are responsible for the manufacture of metal enclosures and structural assemblies for electric vehicle chargers. This equipment is installed at the recharging points used by the end user when they come to recharge their car battery, guaranteeing a safe and quality service.
Not surprisingly, our global presence and, especially, our specialisation in welding processes and cosmetic finishes have made us one of the best partners in the manufacture of chargers for electric vehicles, given our great flexibility in adapting to the needs of our customers. An essential requirement in a market that is both demanding and constantly evolving.
Still not clear about what we do? Don't worry, we'll tell you about one of our success stories in the manufacture of electric chargers.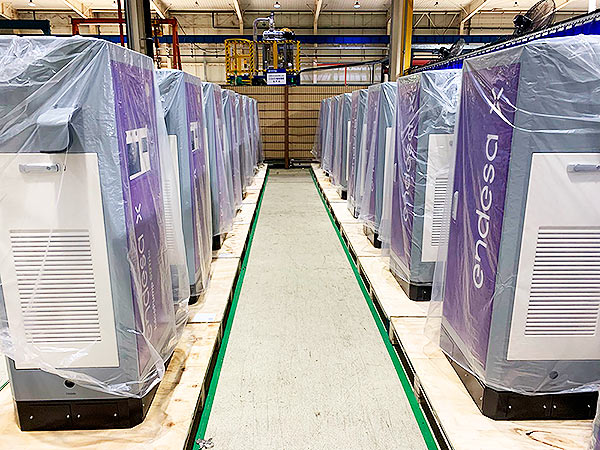 Our client, a leading manufacturer of electric vehicle charging equipment in China, needed a partner who could adapt to the constant variability in the industry, which meant they needed to be flexible to take on continuous product design changes. In addition, extremely tight deadlines had to be met.
At Smarmec we more than fulfilled both conditions. We responded to urgent deadlines and coped with a large number of design changes in parallel to serial production.
In a short time, we manufactured the metal enclosures and the structural assemblies of the requested chargers, obtaining the approval—by the client—of 4 product families in record time.
To this end, we set up dedicated welding and assembly lines. In this way, we were able to increase our production capacity while adapting to the flexibility required by variable demand.
The result was 4 product lines tested and approved by the customer in the series production phase.
Fascinating, isn't it? If you have any questions about how we can help you in the manufacture of chargers, do not hesitate to contact us, we will reply as soon as possible.