Thanks to its low cost and efficiency, fusion welding is one of the key processes in our offering
We use several different types of this joining technique in our day-to-day work, each one ideal for a specific project type. We will advise you on the most cost-effective type of fusion welding for your project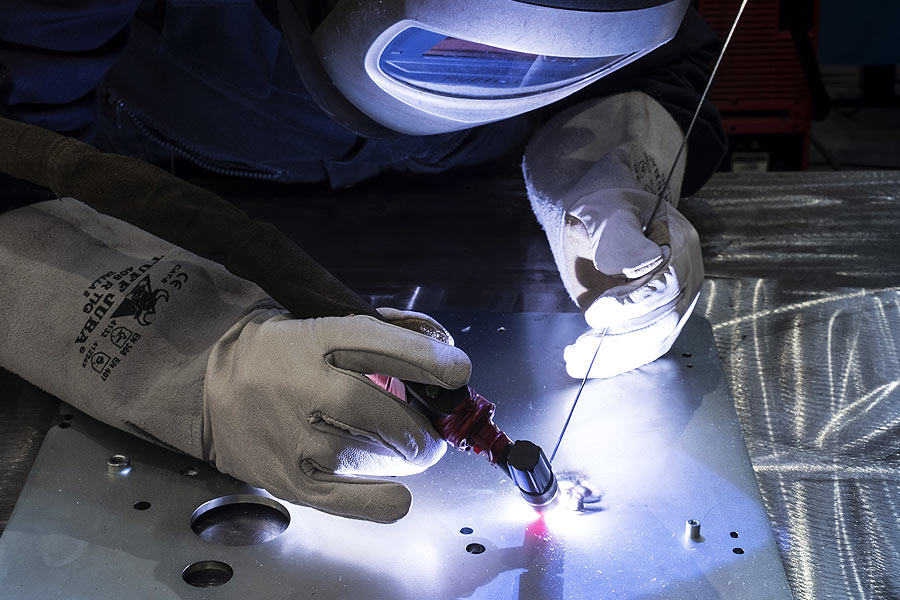 At Smarmec, we are joining technology experts. We have been using this type of processes for more than 40 years to provide complex, high-quality technical solutions.
We started as a company manufacturing products by means of watertight welding. The demand for projects of this type required a high level of knowledge, something that we acquired over time by searching for the best solutions for our clients. As a result, today we are specialists in all types of joining technologies, a key factor in generating complex products in the sheet world.
Among these processes, Smarmec highlights fusion welding as a particularly advantageous joining technology thanks to its cost-effectiveness and efficiency results. These are the main benefits:
Preparation time is shorter than in the case of bolted couplings.
The couplings are hardly deformed and can become watertight.
It offers a more aesthetic result and couplings are simpler.
High tensile strength.
Good electrical conductivity.
Within fusion welding itself, we usually work with five different types.
Electrode: This technique is used for less complex projects. A process that can even be used for both home DIY and outdoor projects.
GMAW/MIG/CMT: This type of fusion welding is carried out using more complex devices. As it is a process that requires the use of gas, it must be carried out in closed environments. It is the most common type of welding and is used for projects with carbon steel, stainless steel or aluminium materials. In fact, we have a clear example that demonstrates a success story carried out using the robotic CMT welding.
GTAW/TIG/Plasma: This type of fusion welding is perfect when a delicate process is required. In spite of being quite complex and slow, it enables thin metals to be welded with great accuracy.
Spot/Resistance: Requires expensive devices and is used for welding thin sheets. It is easier to automate and use than processes such as arc or gas welding. This is because the materials are welded together without the need for a filler material. It is usually used on car bodywork, household appliances or the electrical industry.
Laser: Is an expensive process but easy to automate. At the same time, it facilitates fast welding, which makes it perfect for large scale manufacturing. In addition, heat input is minimal, therefore, deformation is lower than in other joining techniques.
It should be noted that certain conditions and requirements must be met in order to carry out these processes. Smarmec adapts to each project's certification and approval needs. In addition, we have the regular collaboration of testing centres, both destructive (tensile, breakage, macrographs, etc.), and non-destructive (penetrating liquids, X-rays, etc.) of parts.
In fact, thanks to our expertise in welding technologies, we advise our clients to choose the most viable option. Our versatility and quality in welding, that we have demonstrated throughout all these years, have made us a benchmark for our clients.
Success story
Fusion welding for solar thermal power plant in Morocco
This was a very demanding project in terms of welded couplings and diversity of welding techniques.  We were therefore forced to develop even more techniques that were already ground-breaking in themselves.
These were some of the processes we carried out: TIG, plasma, MIG, CMT and laser welding on stainless steel and nickel-based alloys. Each and every one of them was approved and every welder involved in the project was certified.
In order to ensure the quality of the product to be developed, we carried out non-destructive trials on 100% of the welds, specifically X-rays and penetrating liquids.
The project's success was based on our team's ability to generate knowledge by innovating and searching for the best solutions to the client's issues.
Are you looking for an expert partner in joining technologies? Contact us!