Protecting industrial machinery by the manufacture of fairings is a process that is as vital as it is unknown
The word fairing is one of those words that our brain inevitably links to another word: motorbikes. The fairing, which is an external covering used, among other things, on all kinds of means of transport (yes, also on planes, trains and even cars), is inextricably linked in our memory to the world of two-wheeled vehicles. Well, today we are going to talk about another type of fairing; specifically we are going to deal with a crucial point for our industry: the manufacture of fairings for machinery.
Fairings are present in much more than just the world of transport. Proof of this is that the industrial fairing is a fundamental part in the protection of machinery and manufacturing equipment. It is mainly used to protect the internal components of machinery, reduce noise pollution and improve energy efficiency. Unlike the world of transport, the manufacture of fairings for machinery cannot be carried out in an intensive manner, as the serial production of machinery is not as massive as that of a retail product. In addition, industrial machinery requires customisation and flexibility, as each customer, as well as their requirements and project specifications, will limit the type of fairing production.
Currently, within the industrial machinery sector, a paradigm shift is taking place at all levels: in parallel with the evolution of the machines themselves in the form of added components that make them smart and adaptable to changing demand, machine fairings are gaining prominence in order to differentiate and stand out from the competition. All this in the midst of a continuous search for cost optimisation, while maintaining quality and offering automation and smart solutions adapted to each company's needs.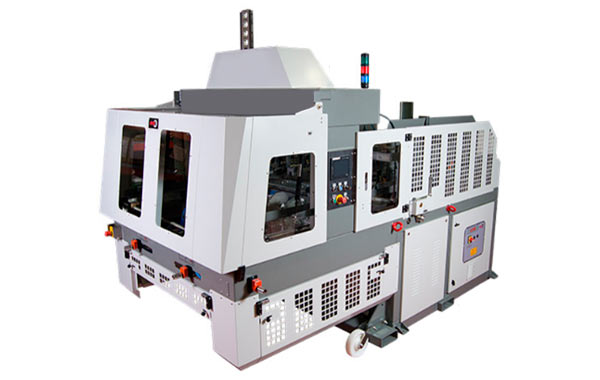 Recognisable stages in fairing manufacture
The first step in the manufacture of industrial fairings is the selection of the right material. The material must be resistant to the conditions of use, durable and easy to work with. Common materials used for industrial fairing fabrication include painted carbon steel, stainless steel, aluminium and fibreglass reinforced plastic. Some will vary depending on the need for functionality and the customer.
Once we have selected the building material, we must turn our attention to the design phase. The design must be functional and aesthetically pleasing, as well as take into account the specific requirements of the customer. During the design phase, the engineering office will, as in other production runs, use 3D design and modelling software to generate a first virtual model of the machine fairing, which will serve as a prototype prior to the first production run.
Once this is done, the next phase is the production of the prototype, where the product will be shaped in what we could call a tester. This will undergo various changes and adaptations based on the tests that will be carried out to check whether the technical projections are met and whether the design is as functional as it is on paper. This is mainly a contrast phase closely related to the design.
After completing the design and testing on a prototype, we move on to the production and/or industrialisation stage, which occurs in the same way as in other types of product manufacturing. This process can vary depending on the material used, including cutting and shaping the material that will make up the fairing, meeting both the technical requirements set in the design process and the aesthetic finish criteria set by the project.
Finally comes the phase of quality checks. The product cannot be delivered without a series of technical marker checks. This is when tests must be carried out, including visual inspections, stress tests and energy efficiency tests on materials.
What machinery requires industrial fairings?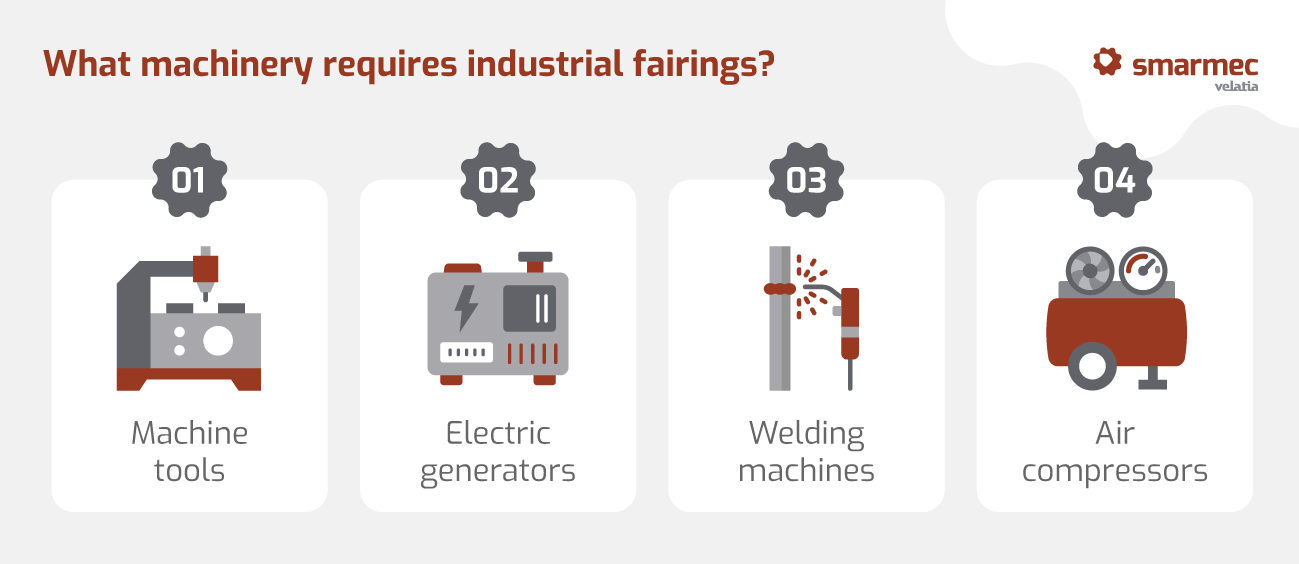 As we said, there are many machines that require industrial fairings, although we are not aware of it. That is why we are going to cite some everyday examples:
Machine tools (machining centres, milling machines, planing machines, grinding machines, lathes, presses, etc.): In this case, the industrial fairing covers two different basic functions: one of aesthetic brand differentiation and the other aimed at complying with current requirements in terms of safety and occupational hazards.
Electric generators: Electric generators are devices that convert mechanical energy into electrical energy. Generators often have internal combustion engines that can be noisy and produce high levels of vibration. Industrial fairings are used to reduce noise pollution and protect the internal components of the generator.
Welding machines: Welding machines generate high temperatures and produce noise and smoke during the welding process. Industrial fairing is used to reduce noise pollution and protect workers from smoke and sparks.
Air compressors: Air compressors are devices that compress air for use in industrial applications, such as pneumatic tools. Compressors can be noisy and produce high levels of vibration. Industrial fairings are used to reduce noise pollution and protect the internal components of the compressor.
Smarmec, expert in the manufacture of fairings for machinery and other applications
The diversity of industry requirements means that in-depth knowledge of mechanical and electromechanical design and manufacturing processes is one of the advantages of having Smarmec's support.
At Smarmec we manufacture enclosures and/or fairings for machine tools and fully integrated industrial equipment using all our experience in welding and cosmetic finishing.
Do you want to know more?